VNT Cultureday "Religion and Fortune Telling"
Posted On January 22, 2022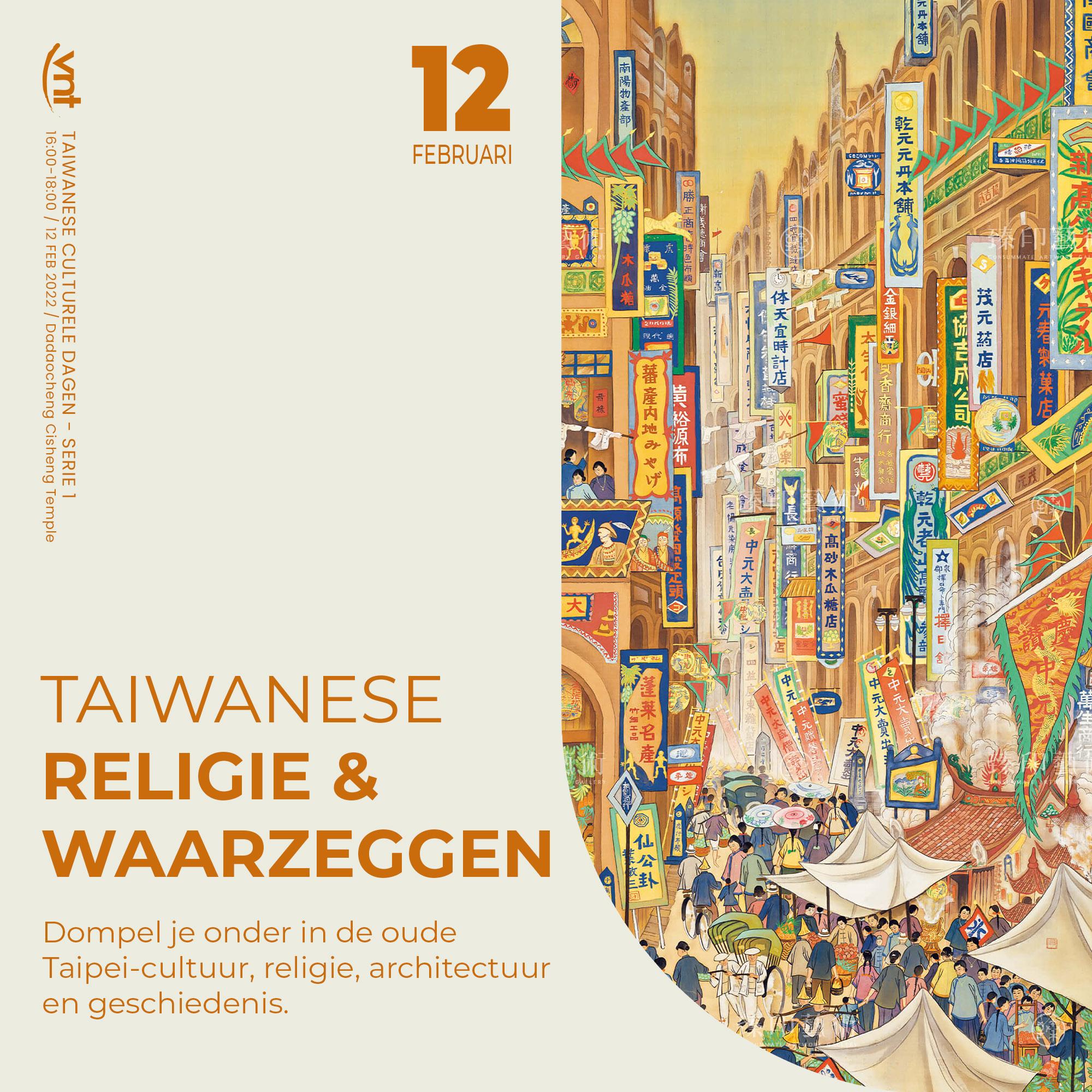 On February 12, the VNT launches a new initiative: The VNT Culture Days
With the intention to introduce you to various parts of Taiwanese culture, we will organize different tours in small groups.
For our first event on February 12th, Religion and Fortune Telling, we are very happy that Marit Haighton, member of the VNT and expert on Taiwanese religions, will guide us through one of the oldest temples in Taipei. She will share about the range of gods and goddesses in the temple and Taiwan and their cultural and religious significance to Taiwanese people. Marit will speak in Dutch and draw connections with the Dutch culture.
We will experience how to pray and learn about temple manners. Best of all, everyone can participate in the traditional custom of fortune telling!  
A maximum of 15 people can join this tour. The tour will take about 1.5 hours in total (incl. fortune telling). The advised age group for this tour is 12 years and older. We will meet in front of the Cisheng Temple in the center of the historical Dadaocheng District. 
And after the tour, we will have a drink and chat at a nearby bar.
You are also welcome to join at the bar directly! The bar has a wide selection of drinks and is open to bringing or delivering your own food.
There are no costs for this event, and you are expected to pay for your own beverages and snacks.
If you want to join the tour, please register asap at this email address. There are only 15 spots for the first 15 entries. If you only wish to meet up at the bar after the tour, no registration is necessary.
Covid Measures: The size of the tour fits the current Covid regulations. We will continue to monitor future developments. 
Date: 12 February 2022
Join the tour!
Tour meetup time: 16.15 (tour will take off at 16:30)
Tour meetup location: Dadaocheng Cisheng Temple
No. 17, Lane 49, Bao'an St, Datong District, Taipei City, 103
https://goo.gl/maps/RnavgMtF4swBgFqf9
Registration (only if you want to join the tour!): vntsecretariaat@gmail.com
Join for a drink!
Bar meetup time: 17:30
Bar meetup location: 春風得意
333, Section 1, Dihua St, Datong District, Taipei City
https://goo.gl/maps/4izifarkU8iv6qSAA
Registration: not necessary