VNT Cultuurdag "Religie en Waarzeggen"
Gepubliceerd op januari 22, 2022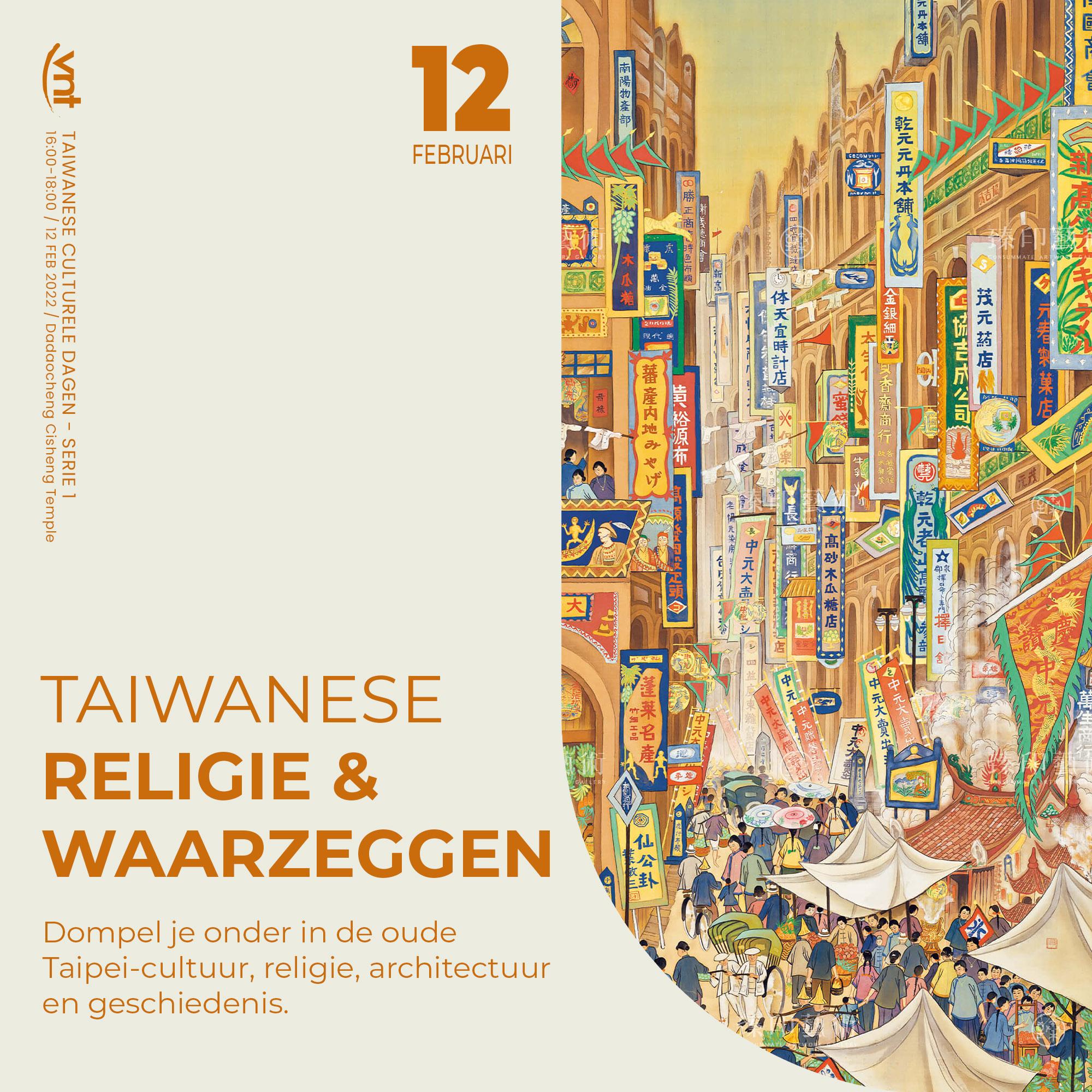 Op 12 februari lanceert de VNT een nieuw initiatief: De VNT Cultuurdagen
Met de bedoeling je kennis te laten maken met verschillende aspecten van de Taiwanese cultuur, organiseren we verschillende tours in kleine groepen.
Voor ons eerste evenement op 12 februari, Religion and Fortune Telling, zijn we erg blij dat Marit Haighton, lid van de VNT en expert op het gebied van Taiwanese religie, ons door een van de oudste tempels in Taipei zal leiden. Ze zal vertellen over het scala aan goden en godinnen in de tempel en Taiwan en hun culturele en religieuze betekenis voor het Taiwanese volk. Marit zal in het Nederlands spreken en verbindingen leggen met de Nederlandse cultuur.
We zullen ervaren hoe we moeten bidden en we krijgen uitleg over gewoontes in de tempel. Leuk: iedereen kan deelnemen aan de traditionele gewoonte van waarzeggerij!
Er kunnen maximaal 15 personen deelnemen aan deze tour. De rondleiding duurt in totaal ongeveer 1,5 uur (incl. waarzeggerij). De geadviseerde leeftijdsgroep voor deze tour is 12 jaar en ouder. We ontmoeten elkaar voor de Cisheng-tempel in het centrum van het historische Dadaocheng-district.
En na de rondleiding gaan we wat drinken en bijpraten in een nabijgelegen bar.
Je bent ook van harte welkom om direct aan de bar aan te schuiven! De bar heeft een ruime keuze aan drankjes en het meebrengen of laten bezorgen van je eigen eten is geen probleem.
Aan dit evenement zijn geen kosten verbonden en er wordt verwacht dat je zelf voor drankjes en snacks betaalt.
Als je mee wilt doen aan de tour, meld je dan zsm aan op dit e-mailadres. Er zijn slechts 15 plaatsen voor de eerste 15 inzendingen. Als je na de rondleiding alleen aan de bar wilt afspreken, is aanmelden niet nodig.
Covid Maatregelen: De omvang van de tour past bij de huidige Covid regelgeving. We zullen de toekomstige ontwikkelingen blijven volgen.
Datum: 12 februari 2022
Doe mee met de rondleiding!
Ontmoetingstijd tour: 16.15 uur (tour start om 16.30 uur)
Locatie van de tourbijeenkomst: Dadaocheng Cisheng-tempel
No. 17, Lane 49, Bao'an St, Datong District, Taipei City, 103
https://goo.gl/maps/RnavgMtF4swBgFqf9
Aanmelden (alleen als je mee wilt doen met de tour!):  vntsecretariaat@gmail.com
Doe mee voor een drankje!
Bar meet-up tijd: 17:30
Bar ontmoetingsplaats: 春風得意
333, Section 1, Dihua St, Datong District, Taipei City
https://goo.gl/maps/4izifarkU8iv6qSAA
Aanmelden: niet nodig