VNT Cultuur Tour
Gepubliceerd op februari 20, 2022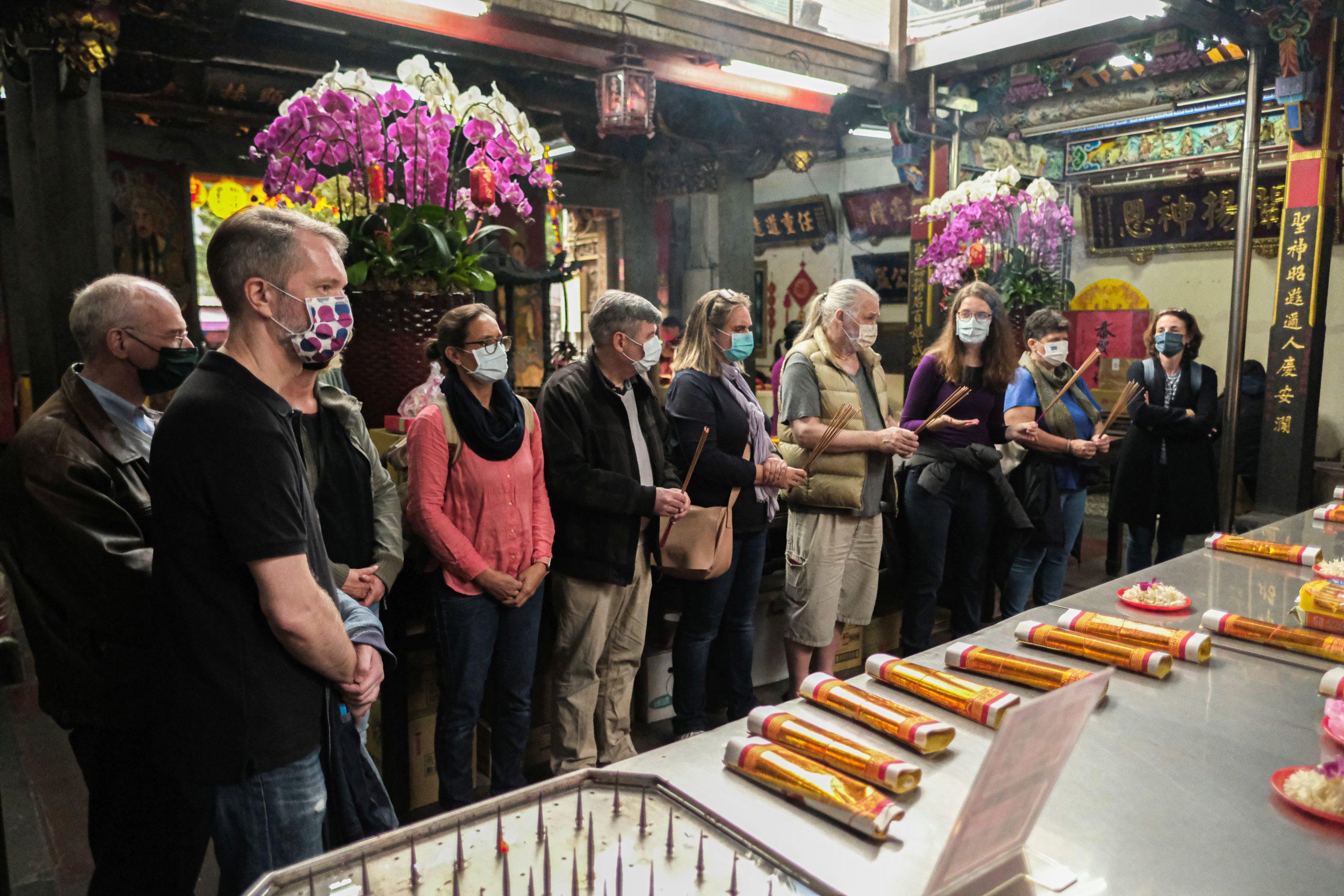 De eerste VNT Cultuurdag zit erop!
En wat was het van meet af aan interessant.
Onze gids op deze wat grijze dag was Marit Haighton. Ze nam ons mee op een prachtige reis langs de verscheidenheid aan Taiwanese religies en goden, vanuit een Nederlands perspectief.
Stel bijvoorbeeld dat je de religieuze grondslag van iemand wil begrijpen, dan kun je in Nederland vaak vragen of iemand gelovig is. In Taiwan kun je beter vragen naar welke god hij of zij bidt. Want in de veelheid aan goden in de Taiwanese religies, is er vaak een god waar iemand een speciale band mee heeft en specifiek dankbaarheid aan toont of hulp aan vraagt.
Voor deze toer waren we op bezoek bij de Cisheng Tempel. Mazu zit hier op de hoofdzetel, als godin van de zee staat zij ook centraal in de volksreligie van Taiwan. De overige negen goden in de tempel lieten een mooi beeld zien van de rijke scala aan machten in het Taiwanese geloof.
De toer leidde ons lang alle aanwezige goden. Marit introduceerde bij ieder zijn of haar plaats in het Boeddhisme, Daoïsme of volksreligie. Vanuit hun eigen force, kan iedere god of godin steun en hulp bieden op diens eigen vlak. Van Guanyin voor troost en Generaal Guan voor strategie tot de Medicijn Boeddha die kan helpen bij genezing. Vooral Wenchang Wang, de god van cultuur, examens en promoties was deze dag erg populair.
Marit legde ons uit hoe tot deze goden te bidden of ze te groeten. Met de kenmerkende handbewegingen kun je tijdens een bezoek aan een god en een tempel respect tonen. Ook deelde Marit de handvatten om te bidden tot een god, zoals het noemen van je naam, geboortedatum en hele adres (er zijn in Taiwan immers vaak mensen met eenzelfde naam). Vervolgens bedank je voor wat je hebt mogen ontvangen, waarna je kunt zeggen of vragen wat je met de god wilt delen. Hierbij kun je kiezen of je wierook gebruikt.
Het was fascinerend om op deze manier een inzicht te krijgen in de religieuze beleving van Taiwan.
Daarna hebben we nog gezellig samen nagepraat onder het genot van een drankje.
We zijn Marit Haighton bijzonder dankbaar voor haar expertise en enthousiasme!